Australian coffee capsule packer goes green
Written on the 22 November 2016 by Consulting Hall, my HR and PR advisers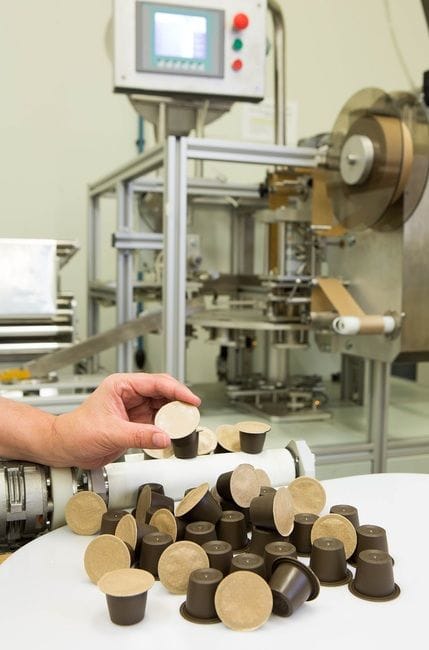 Australian coffee industry supplier Capsule Pack has unveiled an innovative solution to the country's growing problem with used coffee capsules.
Australians consume three million coffee capsules a day, or more than a billion a year, and until now the aluminium and plastic pods used by manufacturers were not biodegradable.
The used coffee capsules are creating a significant environmental problem but Capsule Pack is now able to produce 100 per cent biosourced and 100 per cent biodegradable coffee pods.
Mr Beattie said Capsule Pack, which packs capsules for the Australian coffee industry, and its sister company Coffee Roasters Australia had investigated markets around the world looking for a solution to the environmental dilemma for years before settling on a biodegradable capsule that also delivers a high quality extraction.
Mr Beattie said their new BioCap capsules are a composite material obtained by transforming cereal plants to replace petro-chemical based plastics.
"We spent a lot of time in testing the performance of the biodegradable capsule. Our new biodegradable capsules have the same if not better performance versus the current capsules but the difference is that they take days to compost rather than 100's of years.
"The plastic and aluminium capsules could take anywhere between 150 years to 500 years to break down but our new capsules will biodegrade within 180 days,'' said Mr Beattie.
"Our pods are the first locally produced bio-degradable pods that are available to Australia's coffee industry and they are already being used by Perth based company Community Pod."
Mr Beattie said Capsule Pack was now marketing the new capsules to coffee roasters throughout Australia.
He said he hoped the coffee industry would race to embrace the new BioCap capsules providing a long term viable solution to the single serve capsule market.
"The dilemma of what to do with the old-style coffee pods has emerged as an environmental concern in recent years and in some places around the world, such as the German city of Hamburg where coffee pods have been banned from state-run buildings.
"Hopefully the industry in Australia will adopt these new capsules and the environmental problems will be significantly reduced."
Mr Beattie said more than 1.5 million households and businesses in Australia owned a pod machine and that number was forecast to double by 2018.
Coffee capsule machines allow users to insert small capsules containing coffee grounds into the machine so they can create quality coffees for themselves.
Nationally there have been reports the capsule coffee market is on track to overtake the grocery bean market within the next three years.
Author:
Consulting Hall, my HR and PR advisers