Building starts on Southport tower
Written on the 2 September 2014 by Gold Coast PR company Consulting Hall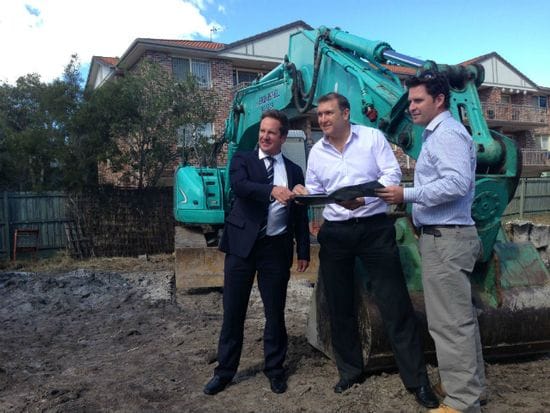 Construction has started on one of the first buildings approved under a Gold Coast Council plan to revitalize the business hub of Southport.
Builders have started work on the Oceans Apartment project, an architecturally designed seven storey apartment tower at 26-28 Gray Street, Southport.
The project, which was approved under the council's Priority Development Area regulations, is being developed by luxury builder DanKav, which is developing a reputation for apartment projects in the Gold Coast region.
DanKav has been involved in two apartment projects at Mermaid Beach including the soon-to-be completed Pacific on Peerless project and it already has plans for another Southport project in the pipelines.
DanKav has launched the Oceans Apartments project to meet the fast-growing demand from business people, retirees and students for apartments in the Southport area.
The company, which is headed up by low profile builder Daniel Veitch, has appointed the project marketing arm of John Henderson Professionals Mermaid Beach to sell the project.
The start of the construction of Oceans Apartments was marked by a sod turning ceremony involving Gold Coast Mayor Tom Tate today.
John Henderson Professionals Mermaid Beach principal Andrew Henderson said Southport was enjoying a fresh breath of new life as the city's business and administrative heart because the Gold Coast City Council had recognised the importance of the city centre.
"The council has paved the way for Southport to be reinvigorated as the centre for business and living,'' Mr Henderson said.
"The Gold Coast's CBD is set to be revitalized in the next decade and this project is one of the first to get underway as part of that rejuvenation.
"Mayor Tom Tate has publicly displayed his faith in Southport by moving his office and staff to the suburb and I am sure many more businesses and residents will quickly follow.
Mr Henderson said each of the 27 apartments in Oceans would feature open plan living areas comprising a combined kitchen, dining room and lounge, which would flow on to balconies of up to 25sqm.
"The developers are building a seven storey building with 25 two bedroom apartments extending from floors one to five and two three bedroom apartments on level six,'' said Mr Henderson.
"The top floor of the Oceans Apartment will include a 190sqm rooftop terrace which will be used by all the residents.
"This rooftop terrace, which will be accessed by the building's elevators, will include two outdoor barbecue areas, landscaped gardens, undercover seating and a bathroom."
The development plan allows parking for 28 vehicles.
"The lifestyle options created by the apartments will appeal to many Gold Coasters, with residents being able to walk to the many retail and recreational destinations in the area,'' he said.
"The site is only 300m from the Broadwater and only metres from the public transport corridor on Smith Street.
"Because of its location the proposed development will have special appeal for university students and those who work within the Southport CBD."
Author:
Gold Coast PR company Consulting Hall