Bullivant sells beachfront mansion for $5.3 million
Written on the 17 February 2014 by Brisbane PR agency Consulting Hall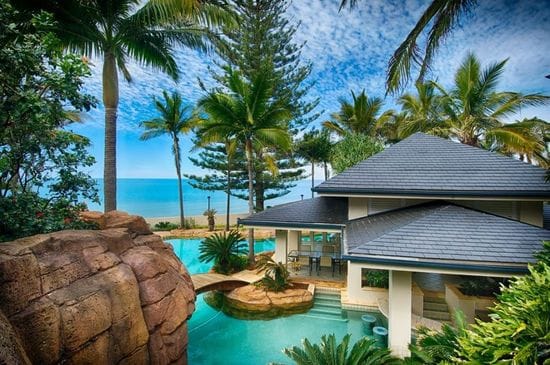 Vitamin king-turned tourism tycoon Vaughan Bullivant has sold his sprawling Brisbane mansion on the absolute beachfront for a whopping $5.3 million.
The sale for the landmark mansion at 116-124 Prince Edward Parade, Redcliffe, is the highest price recorded for a sale in the beachfront suburb and is one of the highest prices paid for a home in Brisbane.
Agent Marilyn Madden, who negotiated the record-breaking Redcliffe sale, said it was the biggest sale of her 40-year real estate career.
Ms Madden, who in 1985 was the first agent to record a million-dollar-plus sale at Redcliffe, said the buyer was a Brisbane businessman who intended to live in the six-bedroom, four-bathroom house.
The stately home, regarded as one of the best homes in Brisbane, sits on a 4000sqm beachfront site that has 68.9 metres of beach frontage.
Some of the features of the home include a theatre and media room, two full bars complete with refrigerators, a choice of several luxurious living areas and large balconies to take advantage of the 180 degree views of Moreton Bay.
In the rear of the landscaped gardens sits a large resort-style swimming pool, a spa, a waterslide and a covered poolside entertainment gazebo equipped with its own kitchen, change rooms and bathroom.
In the front yard is a full-sized tennis court complete with floodlighting and an adjacent pavilion that includes another kitchen and a bathroom.
For the children there is a replica Georgian-style cubby house that has previously been named as being among the Top 10 Cubby Houses in Australia, a sand pit and a play gym.
Ms Madden, who works for Professionals Woody Point Real Estate and is considered Redcliffe's best known and respected real estate agents, said Prince Edward Parade was one of the best streets in Brisbane and properties in the area were tightly held.
"This property is one of the best homes in what is one of city's best streets,'' she said.
"Some of the homes along Prince Edward Parade are breathtaking. It is a beautiful and quite secluded part of the Redcliffe Peninsula and it's no surprise to discover that there is always strong demand for properties along this strip."
.
Ms Madden said demand for Redcliffe properties was running high, but that was not unusual.
"The market is very good at the moment but that is not surprising,'' she said.
"The peninsula is largely surrounded by water from all sides and this create a shortage of land, which limits the level of housing supply.
"As a result, demand has always been quite strong, even during the worst of the Global Financial Crisis.
"During the GFC prices did fall but we didn't experience the big falls that other beachfront areas suffered and there was no shortage of buyers."
For further information contact Brisbane and Gold Coast public relations agency Consulting Hall on 1300 694 777.
Author:
Brisbane PR agency Consulting Hall