Can Do Newman approves $500m marine project
Written on the 21 December 2013 by Gold Coast PR company Consulting Hall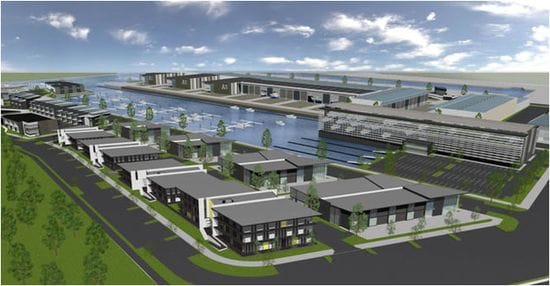 The Newman government has given the green light to a $500 million expansion of Queensland's marine industry, approving Maritimo boss Bill Barry Cotter's Gold Coast International Marine Precinct.
The approval by the Coordinators Generals paves the way for this project, which will provide a huge stimulus for the Gold Coast economy and the existing Marine Precinct at Coomera on the northern end of the Gold Coast.
Planit Consulting director Boyd Sargeant, who managed the approval process for Mr Barry Cotter, said the project included a 390-berth marina, a 290-berth dry stack storage complex, a TAFE college, a yacht club, and commercial outlets.
"The proposal will generate significant stimulus to the region's economy with up to 4000 jobs created locally during the construction phase and up to 5500 jobs during its operation,'' Mr Sargeant said."
The new development represents a major change from the existing marine precinct areas on the Gold Coast because it allows a more diverse range of businesses and education facilities to use the marine industry base
The new development also caters for the expanding workforce with a full range of services, such as cafes, gyms, and banks, being allowed to set up shop within the extended precinct.
Mr Sargeant said that under the State Development and Public Works Act, the approval process had been managed by the Coordinator General instead of the Gold Coast City Council.
He said the negations with Gold Cost City Council and state government departments had taken a number of years.
"The development process was very complex and we had multiple technical issues that we had to work through with the regulators,'' Mr Sargeant said.
"It was so complex that I don't believe the proposal could have been approved properly through the traditional planning process with the individual government departments and Council all wanting outcomes to suit their own requirements and at times conflicting."
Under the process development proposals are required to undergo a stringent Environmental Impact Assessment.
Plaint Consulting, a leading Australian planning and environment firm, produced Environmental Impact Statement for the developers.
The project is to be built on 42ha adjoining the northern side of the existing Coomera marine precinct.
The proposal now allows for:
• 11ha waterfront industry and ship lift facility for manufacture and repairs
• 18ha for support industries, manufacture and storage
• 10ha of mixed use for boat designers, boating chandlery, professional offices, education and training facilities, showrooms, cafes, restaurants
• 370 berth marina harbour complex
• 5ha environmental reserve to Oakey Creek
"The proposal has generated considerable community and development interest with the project's website receiving about 10,000 hits,'' said Mr Sargeant.

"The project has very strong support among the community with more than 90 per cent of the people we surveyed in favour of the concept."
For more details contact Gold Coast and Brisbane public relations company Consulting Hall
Author:
Gold Coast PR company Consulting Hall