Chocolate Graphics tastes sweet global success
Written on the 18 January 2016 by Gold Coast PR company Consulting Hall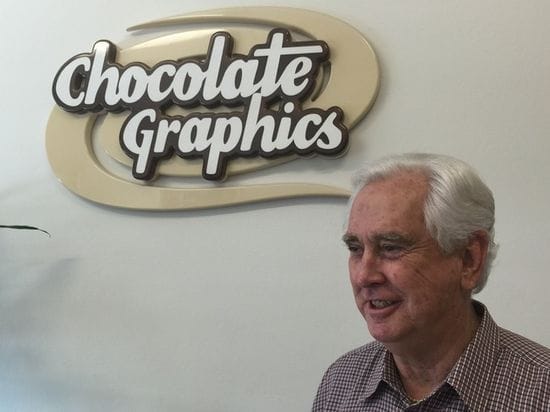 Burleigh Heads-based Chocolate Graphics International has enjoyed ts best year on record as it looks to add more international licensees and expand its presence internationally and in the giant US market.
Company founder and managing director John Taylor said the company had recently sold master licences in four new countries to bring the total of countries that manufacture and distribute Chocolate Graphics' patented products to 32.
Chocolate Graphics started commercializing a patented process to emboss any image, message or photograph onto a chocolate surface using only chocolate in 2001 and the sweet idea has caught on around the world and is now being seen as a great value added product.
Mr Taylor said the company and its licensees, which totally has close to 200 employees, were now manufacturing more than 30 million embossed chocolates a year.
Some of the latest countries to be added to the Chocolate Graphics family are Iran, Algeria, Nigeria and Kuwait to add to the four other countries in the Middle East that can savour the company's products.
"The Middle East is a very good market for Chocolate Graphics because of the enormous wealth being created there in some sectors of the community means they can sell our products for four times what we could potentially sell them for in Australia,'' said Mr Taylor
Mr Taylor said Australia and Chile were the two strongest nations in terms of overall production but South-East Asia and India always been (a) strong markets for the company.
"It hasn't always been an easy run for us, particularly during the Global Financial Crisis as we were very involved in the US dollar but I consider we have excellent products in which consumers can see the great value of branding and personalisation. Our success can only be contributed to our innovative quality products and this has been reflected in our figures in recent years,'' he said.
"I am very happy to say that 2015 has certainly been our best year yet and basically in the International markets, we haven't even scratched the sides and we have enormous growth opportunities ahead
"In the short term we are now looking .to establish the markets by appointing master licenses for the countries of China and Russia and we will be looking to start selling regional territories in the United State, where we have 100 per cent control of the Master Licensee."
Mr Taylor said the company's process used computerized laser technology to produce up to 150,000 personalised chocolates every day by using recently developed equipment, that is unique and Patent protected by Chocolate Graphics.
"We can make the chocolates in almost any (flat) shape, size, flavor and in many different colours, which makes them suitable to a wide range of uses and markets.
Mr Taylor said the company's clients loved the "wow" factor that the products bring, as they really emphasize the personal touch, which is very much appreciated these days.
"For business, the personalisation of a chocolate with a corporate logo, photo or message creates compelling communication,'' he said.
"The Chocolate Graphics success is also linked to the fact that chocolate is the world's most popular gift.
"People in all cultures love chocolates. In the USA for example, over $13 billion worth of chocolate is consumed each year."
Author:
Gold Coast PR company Consulting Hall