Evolve Skateboards rolls away with award
Written on the 2 September 2014 by Gold Coast PR company Consulting Hall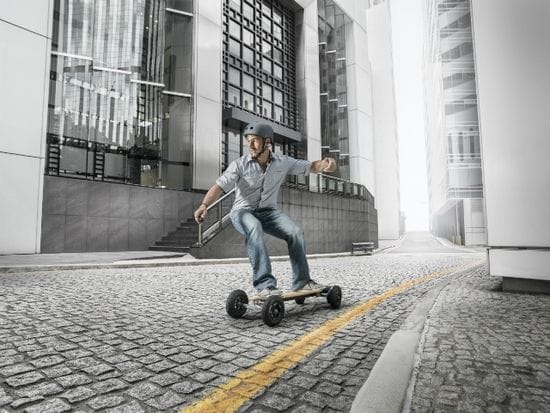 A Gold Coast couple who three years ago sold their family home and poured everything they had into developing a new type of skateboard, have been honoured for their achievements.
Evolve Skateboard founders Jeff and Fleur Anning sold their home and "put everything we had on the line" to produce tools, moulds and the first batch of 55 motorised skateboards in July 2012.
The massive punt paid off for the husband and wife team, with the first batch selling out within two weeks.
Evolve Skateboards earned revenue of just $50,000 in 2012 but just two years later in 2014 the company is on track to record revenues of much more than $2 million for their Australian division.
Evolve Skateboards was this week named as the winner of the Emerging Business category at the Gold Coast Business Excellence Awards for August.
Mr Anning, who previously owned a landscaping business, said he and his wife were on "Struggle Street" before betting everything they had on his design for the motorised skateboards.
"The landscaping business was hit by the GFC, our revenues were down and we were battling to get by,'' he said.
Mrs Anning said the idea to manufacture their own skateboards came after her husband, who was a keen surfer and skateboarder, first saw a motorised board, bought one and was unhappy with the way it performed.
"So he started on his first design in the spare bedroom with a baked bean can and some cardboard,'' she said.
After trying to entice large companies to invest in the idea, the couple bit the bullet and decided to do it all themselves.
And the now the couple are riding on a wave of success, with the motorised board now being sold in 30 countries and their fans include the likes of Felix Baumgartner (sky diver who jumped from the stratosphere), US television personality Conan O'Brien and several Olympians.
Evolve Skateboards, along with August's other winners, are now in contention to take out the annual awards which will be presented at a gala function at Jupiter's in November.
Author:
Gold Coast PR company Consulting Hall