Frosty Boy melts judges' hearts
Written on the 4 November 2015 by Gold Coast PR company Consulting Hall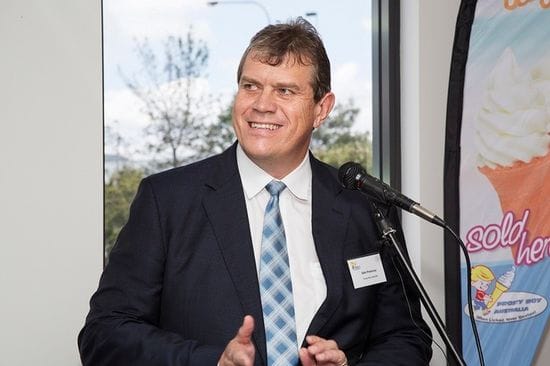 A former Brisbane soft serve ice cream company which moved its headquarters to Yatala last year, has enjoyed the sweet taste of success in its first bid to win a Gold Coast Business Excellence Award.
Frosty Boy, which now manufactures the equivalent of two million serves of soft serve ice cream per day, was named the winner of the Retail, Wholesale and Distribution category of the Gold Coast Business Excellence Awards for October.
The company snuck in the win during the last of the monthly awards and will compete against 59 other organisations to be named as the Gold Coast Business of the Year at a gala function to be held at Jupiters Hotel and Casino in November.
Frosty Boy chief executive officer Dirk Pretorius said he was delighted with the win in the monthly awards.
"I was ecstatic to hear about the award win,'' he said.
"Personally, I attribute it to our success in global integration, continued investment in our systems and people, and the relentless dedication we have to being a dependable manufacturer with world-leading standards.
Frosty Boy Australia, which was established in 1976, is now headquartered from a purpose-built, multi-million dollar, 6000 square metre factory at Yatala.
The company's flagship product, the Classic Vanilla soft serve ice cream, is found in cafes, convenience stores, quick service restaurants and service stations across the world. The company now exports to 48 countries.
Another Gold Coast company enjoying great export success, CyTrack Intelligent Systems, took out the Mayor's Innovation Award. Cy Track is a 20 year-old company that develops software for customer contact centres.
Owned by Nick Milan, the company's Cloud Contact Centre software has more than 25,000 licensed customers worldwide and it is distributed in more than 30 countries.
The winners of the other October awards were Close Encounter Dredging (Emerging Business), Choice Homes (Family Business), Superior Jetties (Manufacturing and Construction), iVvy (Tourism, Hospitality and Events), Gemini Accident Repair Centres (Trades, Services and Professions), ThoughtWare (Knowledge Management and IT), Skyline Landscape Services (Environment and Sustainability), and Morlife (Health and Wellbeing).
The awards' sponsors include City of Gold Coast, Suncorp Bank, Department of Industry, Innovation and Science, OntheNet, Griffith University, Regional Development Australia Gold Coast, Pindara Private Hospital, Flight Centre Business Travel and Gold Coast Airport.
The major supporters are SMART McCann Worldgroup, KPMG, Document Solutions Australia, Consulting Hall, Regina King Photography, Jupiter's Gold Coast, Dreamweavers, Bruce Lynton BMW and Land Rover, Bond University and Gold Coast Suns.
The awards' media sponsors include the Gold Coast Bulletin, NBN Television, 92.5 Gold FM and 90.9 Sea FM.
Author:
Gold Coast PR company Consulting Hall