Historic paddle boat to go under hammer
Written on the 29 March 2014 by Brisbane PR agency Consulting Hall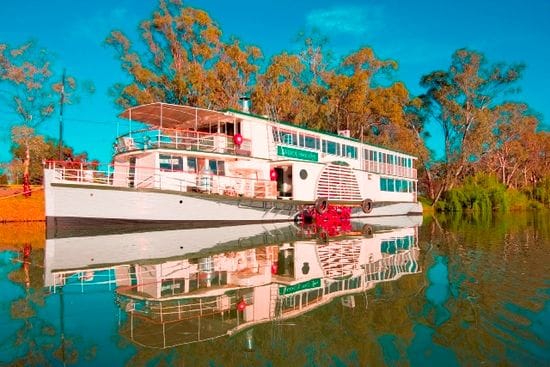 A slice of Australia's romantic paddle steamer era on the Murray-Darling River network is looking for new owners.
The Mildura-based Avoca, which has been plying its trade on the Murray-Darling since it was built at Milang, South Australian in 1877, is set to be auctioned next month.
The historic paddle boat, which is Australia's second oldest, is being sold by Mildura restaurateur Stefano De Pieri.
Agent Tony Roccisano, from Mildura real estate agency Roccisano Professionals Mildura, said the Avoca, which was built as a cargo vessel, had a rich and colourful history.
"The Avoca was first used to transport grain from Goolwa in South Australia to the port of Adelaide,'' said Mr Roccisano.
"The boat was later used to transport cargo between Port Adelaide and the ports along the Murray River.
"Historians have records that note the 112-foot boat, which was then cruelly nicknamed Squid because she often had water over her decks, underwent a major refurbishment in Morgan, South Australia in 1922.
"The Avoca was fitted out as a show boat for day trips from Murray Bridge and then moved up-river to Mildura in 1927. It has been used as a restaurant and for day trippers since then."
Mr Roccisano said many Australians had fond memories of spending time on the boat, which was one of Mildura's best known paddle steamers.
"Over the years a lot of people have been able to enjoy cruising along the Murray River and viewing the sights on board the Avoca,'' he said.
"It's also hosted a huge number of weddings, dances and celebrations in that time as well.
"I am sure Australians will support the next owners who will get a chance to refurbish this important part of our history and help continue the romance surrounding the golden days of the Murray-Darling system.
Mr Roccisano said the Avoca was moored at a private wharf on Mildura's riverfront and the mooring site permit would be included in the sale.
The boat is set to go to auction onsite on Friday, April 11 at 2pm.
For further information contact Gold Coast public relations firm Consulting Hall on 1300 694 777
Author:
Brisbane PR agency Consulting Hall