Jock McIlwain inducted into Hall of Fame
Written on the 7 December 2015 by Consulting Hall, my HR and PR advisers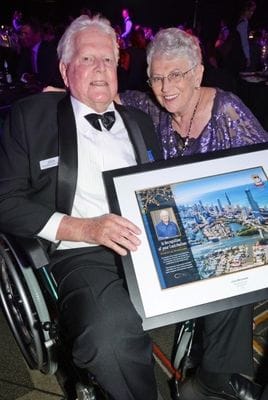 Gold Coast engineer, businessman, former councillor and philanthropist Jock McIlwain OAM has been inducted into the Gold Coast Business Hall of Fame.
Mr McIlwain, who is referred to as the patriarch of Gold Coast canal development, was involved in designing and building many of the waterways that the city is now famous for.
Born in Suva, Fiji, Boxing Day, 1926, Mr McIlwain became fascinated by the engineering work performed in Fiji by the New Zealand army and the US military during World War II.
The Mermaid Waters residents said that interest led him to become a cadet engineer with Fiji's Public Works Department after he finished high school.
He then left Fiji to study engineering at Sydney University before scoring a job with the Snowy Mountains Authority and becoming a leading designer on the Snowy Mountains Hydro-electric Scheme.
Mr McIlwain said he then joined the Project Development Corporation, which built wharves, roads, bridges and jetties, before he set up his own engineering consultancy in Geelong to advise companies such as Ford, Shell, and Alcoa.
There he met Bruce Small, the then owner of the Malvern Star bicycle empire who went on to become Mayor of the Gold Coast and was one of the city's major developers.
Sir Bruce was impressed with Mr McIlwain's work and encouraged him to open an office on the Gold Coast. On the Gold Coast, Mr McIlwain advised Sir Bruce his plans for a residential development west of Surfers Paradise were progressing in the wrong direction.

"I told him that you have to create more waterfront homes," Mr McIlwain said. "People will pay more for waterfront.''
And so the areas of Isle of Capri, Riviera and Sorrento were re-planned and the Gold Coast's canal developments expanded dramatically. The first Bruce Small canal was built to connect the Isle of Capri Shopping Centre to the Nerang River.
During the 1970s and 1980s, Mr McIlwain became a major developer and was responsible for many Gold Coast and State canal developments. He was responsible for the development of great parts of the suburbs of Mermaid Waters, Broadbeach Waters and the areas surrounding Jupiters Casino where he built the first Gold Coast town-houses.
Mr McIlwain considers his "greatest engineering and business achievement" is the "Waterway Wonderland" that is Mermaid Waters. He developed the whole area extending from Nobby's Beach to Robina and included a 70 hectare central lake, which he named 'Lake Wonderland'.
Besides his development interests, Mr McIlwain also had stakes in numerous Gold Coast businesses. He was involved in the city's first two commercial radio stations, now called SEA FM and Gold FM, before selling to media magnate Reg Grundy.
He also teamed up with Seaworld developer Keith Williams to build the Surfers Paradise International Raceway, which hosted hundreds of car races including the Formula One in 1975. The racetrack was closed in the 1980s because the land became too valuable and it is now Emerald Lakes.
Mr McIlwain also served on Gold Coast City Council in the late 1960s and early 1970s. During his time on the council he formed a Gold Coast promotional committee, which was the forerunner to the Gold Coast Tourism Bureau. Sir Bruce and Mr McIlwain led promotional teams all over Australia, New Zealand and South East Asia to successfully putting the Gold Coast on the map as a tourist destination.

Mr McIlwain largely retired in 1987 but he still has some significant business interests including a stake in the Infinity tourist attraction in Surfers Paradise.
The amateur portrait artist also takes a powerful interest in cultural activities at the Arts Centre while he and his wife Beverly sponsor the Science on the Go team at Griffith University.
Griffith University awarded him an honorary doctorate in 2013 and he was awarded an Order of Australia Medal in this year's Queens Birthday honours.
In summing up his life Mr McIlwain said he has "nothing in his bucket list" and he "did it all his way".
Author:
Consulting Hall, my HR and PR advisers