Melbourne Cup winner sells landmark estate
Written on the 2 September 2014 by Brisbane PR agency Consulting Hall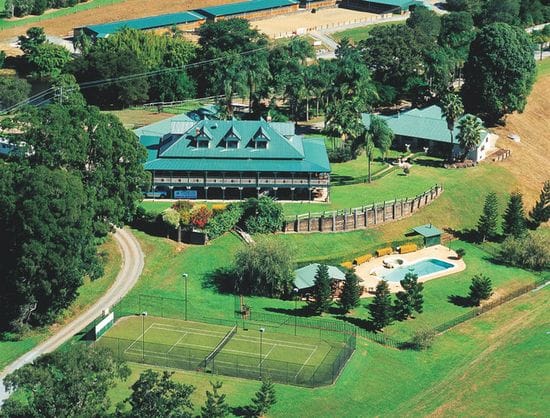 Melbourne Cup-winning trainer John Meagher may be 65 but he has no intention of slowing down.
Mr Meagher heads up the family's Queensland-based Meagher Racing business with sons Chris and Paul.
The energetic trainer, who has won premierships in both Singapore and Melbourne, can be seen at Brisbane's Eagle Farm race track six mornings a week from 4am.
"I am definitely not ready to retire and I am blessed that my boys want to be involved,'' he said.
"It's great to be able to work Chris and Paul and I am very fortunate because they are great horse men."
The family returned to Australia in 2011 after spending 11 years racing horses in Singapore.
Mr Meagher said the family was hoping to increase the number of horses it is training in Brisbane to far more than the 35 than they currently have.
However, as the family pushes to grow the business, John has had to make a tough decision.
He has decided to sell his much loved 21 hectare Gold Coast estate, Rivermead, which has been transformed into the family's pre-training and agistiment farm.
The Melbourne Cup-winning trainer is selling the property 13 Kriedeman Road, Guanaba, through an international expression of interest campaign being run by Lucy Cole Prestige Properties
The property, which has previously been home to Gold Coast Polo & Country Club, was previously owned by Swiss-born philanthropist and winemarker Nicolaus "Nicky" Hahn.
Prestige real estate queen Lucy Cole said the property could be kept solely as a very special and private family retreat or it could be embraced as a commercial opportunity.
Ms Cole said Rivermead offered buyers a huge range of commercial opportunities including being run as a function and convention centre, an upmarket bed and breakfast, a health spa, a sports training retreat, a redevelopment site and a thoroughbred breeding facility.
"Rivermead is truly a very special property,'' said Ms Cole. "It is nestled in the Gold Coast hinterland, just 30 minutes by fast sealed roads from Surfers Paradise, 15 minutes from Sanctuary Cove and one hour from Brisbane airport.
"And for those with a love of flying, the property is an approved heliport."
Ms Cole said the centerpiece of the property was a majestic three-storey 1400sqm colonial homestead which featured wrap-around verandahs, a dining room large enough to host small conferences and a bar that previously was a licensed venue.
Rivermead, which is spread over three titles, also features a separate century-old historic farmhouse, a modern three-bedroom lodge with offices at the property's main entrance, a stable complex with international standard dressage and lunging arenas to cater for up 60 horses, an illuminated tennis court, a swimming pool, a gym, a sauna, and two irrigated laser-levelled polo fields.
Ms Cole said the riverfront property could be used as a function centre, an upmarket bed and breakfast, a health spa or sports training centre. It already has outstanding facilities in place for the breeding and training of thoroughbred horses.
While the property sits outside the development footprint outlined in the South East Queensland regional plan, it can be subdivided into five large rural lots or it could be held as land-banking opportunity.
The property has irrigation water rights for the Coomera River and previously had development approvals in place for up to 10 two-bedroom guest cottages.
Author:
Brisbane PR agency Consulting Hall