Norm Rix inducted into Hall of Fame
Written on the 22 November 2016 by Gold Coast PR company Consulting Hall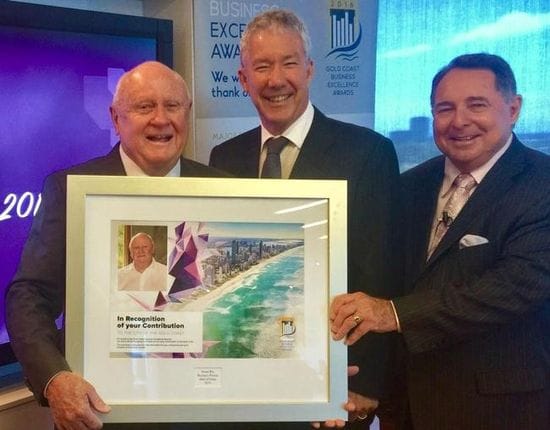 Gold Coast developer, shopping centre owner and former councillor Norm Rix has been inducted into the Gold Coast Business Hall of Fame.
Mr Rix, who now has a personal net worth of more than $200 million, was inducted into the Hall of Fame at the Gold Coast Business Excellence Awards dinner at Jupiters on Saturday.
However, the dedicated family man was not on hand to accept the honour he was at the wedding of one of his grandsons.
In a pre-recorded acceptance speech, Mr Rix said being admitted to the Hall of Fame was a highlight of his life.
Born in Southport in 1935, he grew up poor. His father managed a service station while his mother was a homemaker. His father joined the air force in 1942, served in Papua New Guinea and died from cerebral malaria in 1946.
When he was 14, his mother remarried and Mr Rix left home. He got a job as a bowser boy in Southport with his father's previous employer but he was still homeless and he slept in the petrol station, at the Surfers Paradise Surf Life Saving or on any available spare bed.
He then got a second job as a waiter at the now-demolished Southport Hotel and a third job washing cars. This meant he could afford to rent a flat.
But he was still poor. When he needed a pair of long pants, he and a friend pooled their cash to buy a pair. They shared that pair of pants for two years, taking turns to wear them.
Mr Rix was called up to National Service when he was 19 and he loved it because they paid good money. As a result, he served for three years instead of the required two years.
The property identity got his big break when he started working for real estate agent Laurie Wall, who was known nationally as Mr Millions.
Mr Rix said that on his first day he sat around waiting for a buyer to appear until Laurie wandered in and told him in no uncertain terms "to go out and find buyers".
So he did. First he contacted his friends and acquaintances. One friend bought two blocks of land at Southport and his dentist bought four blocks. That was his start. Within 12 months our hero was in a good position and at the age of 26 he launched his own real estate agency in Southport.
The real estate agency hugely successful but finding houses to sell was becoming increasingly difficult. So Mr Rix teamed up with three friends to build spec homes and then sell them. Within three months he had enough money to start his own home building business.
That was the start of his development career. He has built hundreds of homes since.
He then expanded into apartment buildings, residential subdivisions and commercial developments. Mr Rix said he has completed so many subdivisions that are too many to count.
In the middle of all this he ran for Gold Coast City Council and was elected for nine years.
One of his biggest projects was building the Ashmore City Shopping Centre, which sold for more than $30 million in 1998 and more recently the Coomera Grand Shopping Centre.
Unlike many other developers Norm's business, Rix Developments, has always survived the downturns because the business never carries any debt.
Norm says he has always been frightened of debt.
"I grew up poor and all I ever wanted was 500 pounds in the bank, to own my own car and to own my own home," he said.
Norm has done a little better than that. He is now worth more than $200 million and is among Queensland's richest people.
Now aged 81, Norm is still in the office every day at 8am and is still working hard.
He has three adult children who are also successful in business and seven grandchildren, all of whom were born on the Gold Coast
Norm's personal motto is that the harder he works, the luckier he gets.
Author:
Gold Coast PR company Consulting Hall