Primal Kitchen releases dairy-free cheese to Australia
Written on the 10 July 2017 by Consulting Hall, my HR and PR advisers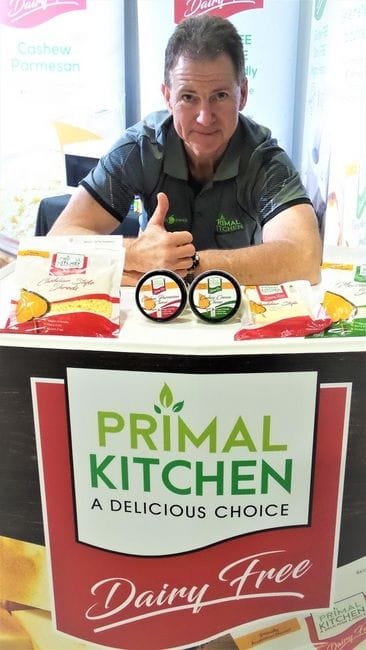 Queensland company Primal Kitchen is nationally launching a range of gluten free, dairy-free vegan-friendly cheese substitutes.
Two years in the development, the non-dairy and vegan friendly alternatives to traditional cheese is expected to become a favourite among people with special dietary needs.
Primal Kitchen, whose sister operation Family Fresh sells fruit through national supermarket chains including Woolworths, was established to target the demand for good quality gluten free, dairy free and vegan friendly products.
Director Kevin Flanagan said the cheese substitute products was launched at the Naturally Good Expo in Sydney in June..
The expo is arguably the premier trade show for the natural, organic and healthy products in Australia and is the largest event of its type in the region.
"We have been working towards the launch for the past two years, firstly in the product development, then the packaging and now we are finalising our distribution networks,'' said Mr Flanagan
"However, we are confident that we are onto a good idea because we have been test marketing the product on the Gold Coast for some time.
"One pizza outlet alone on the Gold Coast is ordering 50kg of the cheese-style products every week."
Mr Flanagan said the company had developed five different cheese-like products including Mozzarella and Cheddar substitutes.
He said the Mozzarella substitute was developed using soy milk as a base while the cheddar replacement had been development from almond milk.
"There are other similar products available that are manufactured overseas but I believe we are the first company in Australia to develop a range of products and have it available for national distribution,'' said Mr Flanagan.

Primal Kitchen's Dairy-Free Cheese range includes:
Mozzarella Style Shreds designed to replace Mozzarella on pizzas and in Mexican dishes;
Cheddar Style Shreds designed to replaced grated cheddar in salads, wraps and burgers;
Cheddar Style Block;
Cashew Cream Cheese designed to be used in salads, pasta dishes or as a dip; and
Cashew Parmesan Cheese.
Author:
Consulting Hall, my HR and PR advisers